How to Build an Outdoor Kitchen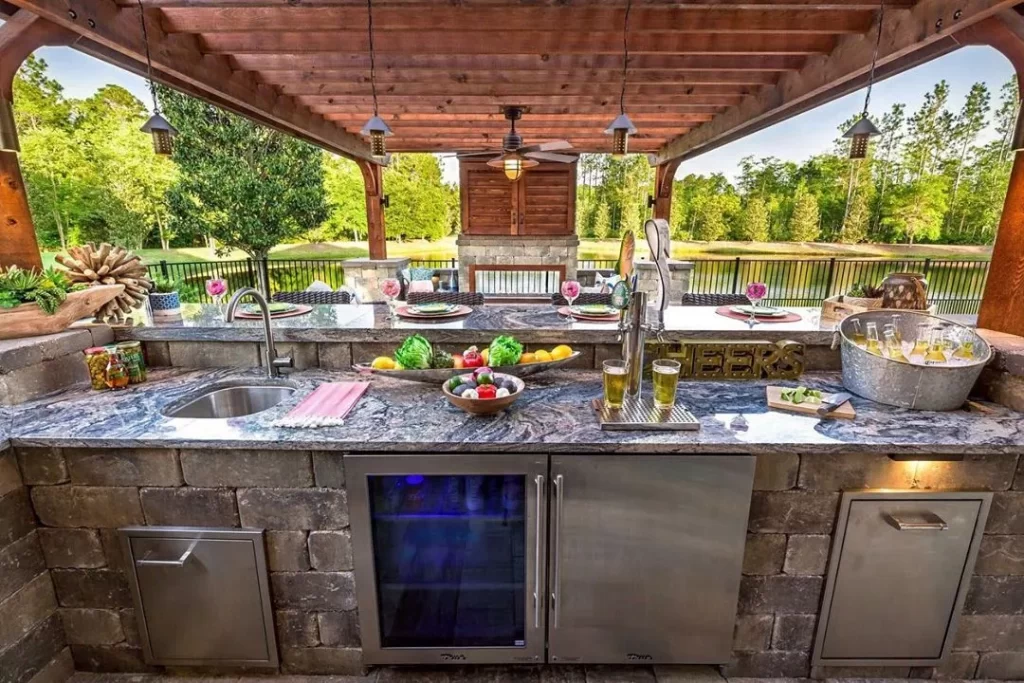 An outdoor kitchen is a wonderful way to enjoy summertime, and there are many options to suit your needs. You can add a pizza oven for Italian favorites or a pie oven for holiday baking. You can also add a wall-mounted heater or umbrella heater to keep the space cool. Ceiling fans can also help keep mosquitoes at bay. The materials you use should be durable enough to withstand the temperature changes.
You can do it yourself, or hire a professional to help you. How much help you need depends on your experience and local building codes. Even experienced DIYers will probably need professional assistance for certain portions of the project, such as pouring the concrete slab and running gas, electrical, and plumbing lines. Some people also opt to hire a general contractor.
The location of your outdoor kitchen is another consideration. It should be close to your home. You should also make sure that the area is level and stable. Avoid placing the outdoor kitchen near trees and structures that can block sunlight. Additionally, you should check for easements on the land that can prevent you from building your outdoor kitchen.
The outdoor kitchen should include a seating area where you can eat and entertain. You should also consider adding an outdoor TV or gas gridles if you are entertaining outside. An outdoor pizza oven can also be an excellent option. Another great addition to your outdoor kitchen is an outdoor bar center. If you host a lot of gatherings, this area will double your entertaining capacity.
A modern outdoor kitchen can rival the kitchen inside the house. It can be the perfect setting for summer gatherings. In the Cow Hollow neighborhood, Heather Hilliard Design created a beautiful outdoor kitchen. Bright blue cabinetry and a living wall add a touch of color. This design combines a modern look with a warm, welcoming feeling.
Countertops are an important part of any outdoor kitchen. Outdoor countertops should be sturdy and durable. Granite countertops are ideal because they can withstand the harsh weather conditions outside. Granite countertops are stain-resistant and will not rust. Stainless steel countertops are a great choice, too. A concrete countertop adds a contemporary touch, but should be treated to resist heat and humidity. You can also install wall cabinets to hold food preparation supplies.
You should also consider adding a fire pit to your outdoor kitchen. It can provide a great place for entertaining friends and family. A fire pit and kegerator are additional elements that can make your outdoor kitchen a great space to entertain guests. Adding an outdoor kitchen to your home can improve your overall quality of life and make your home an attractive extension of your living space.
An outdoor kitchen can become a favorite place in your home for special occasions and memories. It can be the perfect spot for holiday celebrations, birthday parties, or other gatherings that take place outside.